2022 RESIDENTIAL MARKET REVIEW
2022 was another record-breaking year for us in terms of both number of families served and sales volume. Whether you worked directly with us, referred your friends/family to us, or just sent us well wishes, we can't thank you enough for the support!
This month, we are looking back at market data for all of 2022.
In short: The total number of sales is DOWN tremendously, the average sale price continues to tick up across nearly every county we serve, and homes are actually selling faster, on average, than they were in 2020/2021.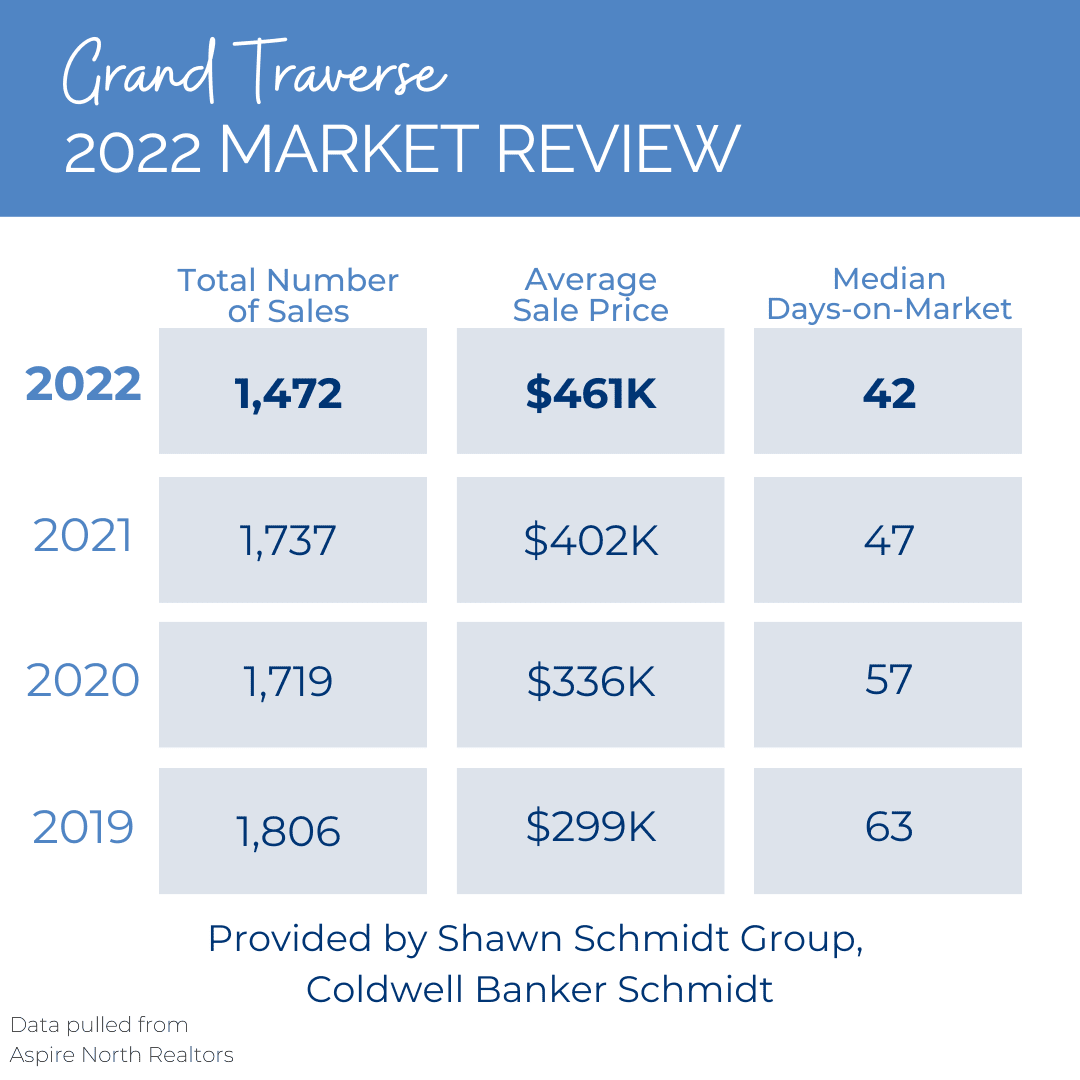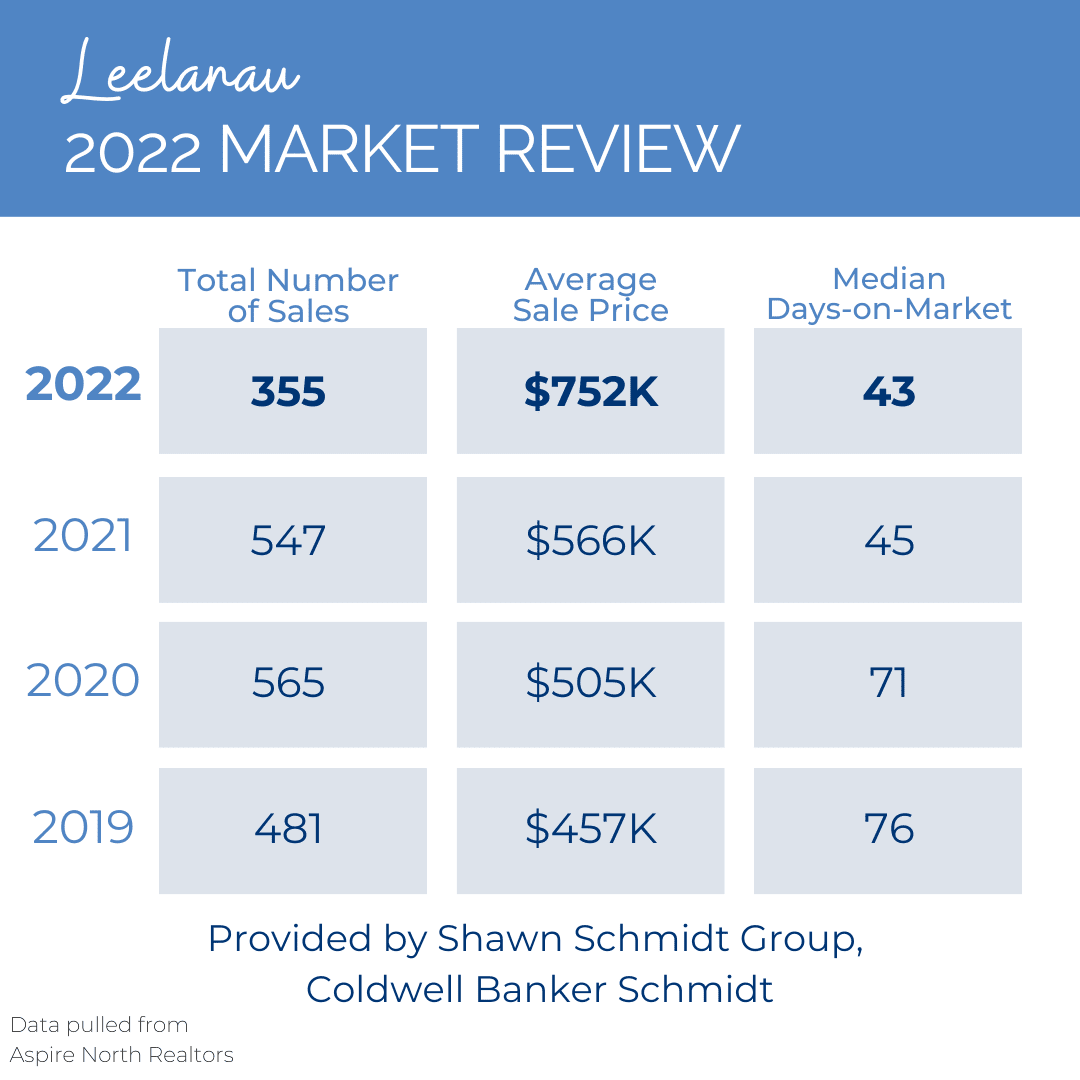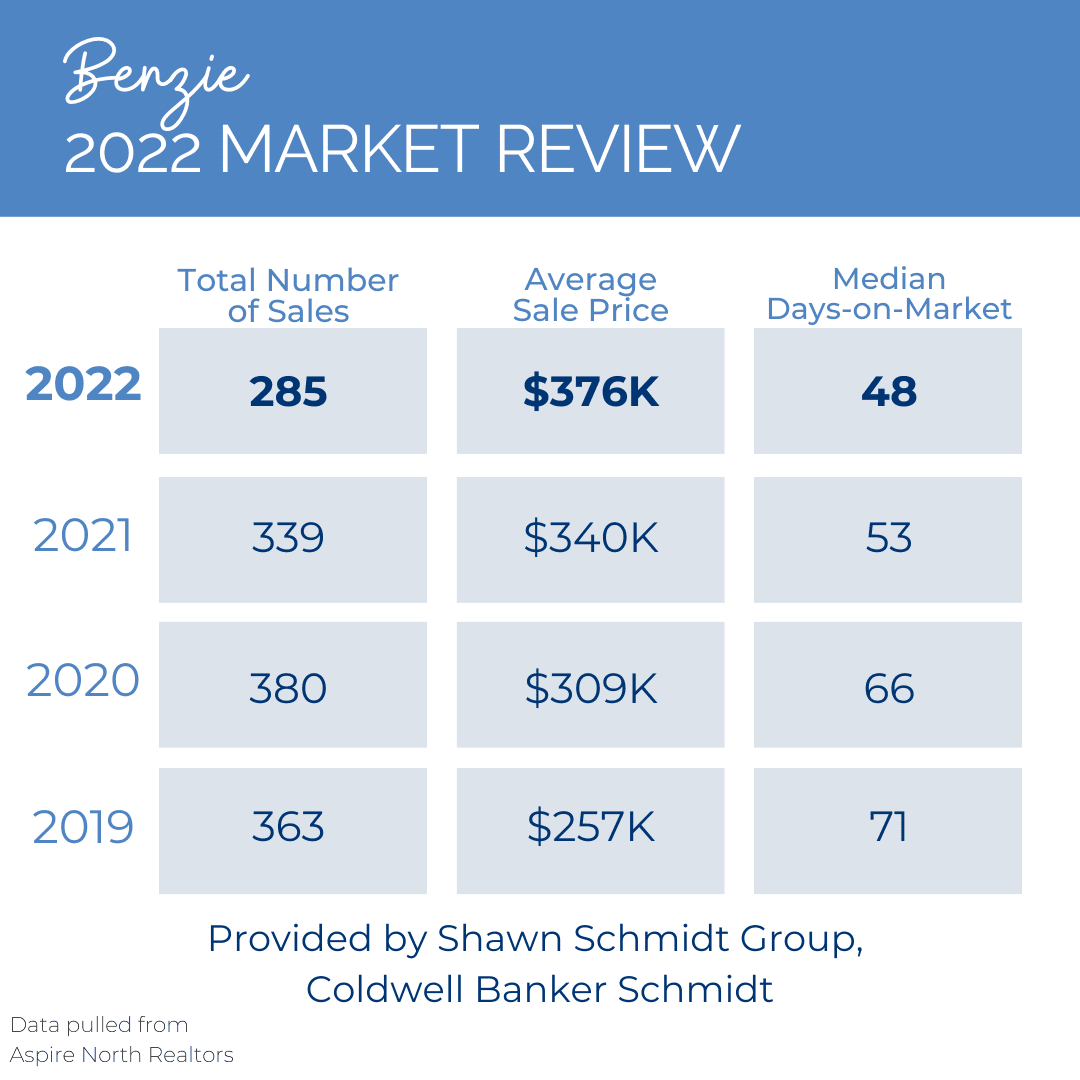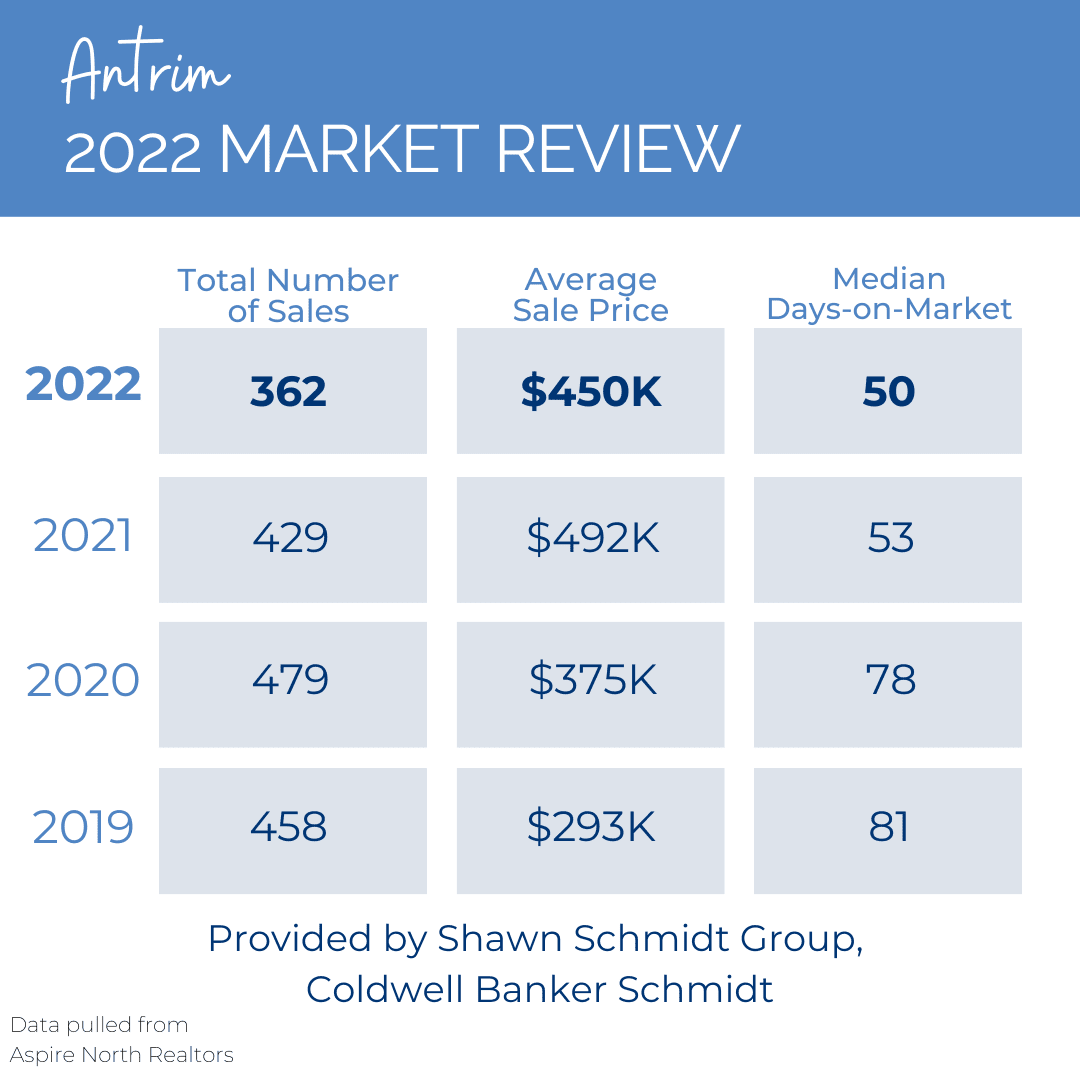 A summary of each county and the notable market conditions:
Grand Traverse County:
From 2021 to 2022, the average sale price in Grand Traverse County increased by 14% (from $402K to $461K) while the number of sales decreased a whopping 15%. There were only 1,469 sales in GT County in 2022. We haven't seen that few sales in GT since 2012.The median days-on-market decreased from 2021 to 2022, from 47 days to 42 days. Assuming a 30 day escrow period for most transactions, then a median days-on-market of 42 days means that most homes are going under-contract around their 12th day on the market.
Leelanau County:
The average sale price for 2022 came in at $752K, which is up 32% from $566K in 2021. Meanwhile, the number of sales decreased by 35%. THIRTY FIVE PERCENT. That is a monumental decrease in number of sales. There were only 355 sales in 2022, the lowest since 2011. I think it's important to keep in mind that "average sale price" is a statistic that is easily skewed very high in counties like Leelanau, where there are only 355 sales for the entire year (compared to Grand Traverse, where we had 1,469) and nearly 20% of those sales are of homes over $1M. The average gets pushed higher thanks to an ever-increasing amount of sales in the $1-3M range. Low/mid price range properties do exist, it just takes more patience and diligence to find them.
Benzie County:
The same story. The number of sales dropped from 2021 to 2022, while the average sale price increased (by 10%) and the median days-on-market also decreased to 48 days. My prediction for Benzie? We'll see rapid price growth there in the coming 3-5 years.
Antrim County:
Out of the four counties I include in this report, this is the only one that saw a decrease in average sale price. From 2021 to 2022, averag sale price dropped from $492K to $450K (a decrease of 8.5%). It's important to note that Antrim County had a handful of extremely high outlier sales in 2021, including Shawn's $7M sale on Torch Lake (the highest in the county for 2021). There was also a $4.375M sale in 2021. Fast forward to 2022, and the highest recorded sale was $3.175M.
Why is the number of sales down so much?
Sales are not down because listings aren't selling. Sales are down because new listings aren't coming on the market.Why aren't there many new listings coming on the market? I believe we're seeing what I describe as the "lock-in" effect: a tremendous amount of current homeowners either bought or refinanced into a sub-3.5% mortgage rate in 2020/2021. Combine that with the home price growth we've seen over the last few years, and the fact that current rates sit around 6%, and you have a lot of homeowners who rather stay put than sell and buy a new house.
Why did the average sale price increase in 2022? Shouldn't the increase in mortgage rates have slowed price growth?
I believe it is simple supply and demand that led to increase price growth in 2022. Despite rates hovering around 6%, there are still many people looking to buy in northern Michigan. More people than available houses for sale. We continue to see families relocating here from all over the country and we remain a retirement hotspot. How many times was northern MI featured in "top 10 places to retire" or "travel hotspot" articles in big publications last year? That press leads to more interest, which leads to more buyers.
So, what's next? What is the 2023 market going to look like?
As long as inventory remains low, I believe we'll see continued price growth. It's going to take an increase in inventory to alleviate some of the pent up demand from buyers. That new inventory can either come from new construction or existing homeowners choosing to sell. I believe we'll see more of the latter in Q3/Q4, which will translate to a slow down in price growth and hopefully a return to a more balanced market. In the meantime, we are most definitely still in a seller's market. Buyers are ready to make offers on homes that are priced appropriately. Overpricing a listing is the worst move a seller can make right now. Sellers could over-price in 2020/2021 and still get offers, but that strategy no longer works. Listings that are overpriced out of the gate are the ones that are sitting on the market and eventually doing price reductions.
Whatever comes this year, we're here to help you navigate all of it!
2022 LUXURY MARKET REVIEW
The luxury market remained HOT in northern Michigan throughout 2022. Note: for the purpose of this review, "luxury sale" means any sale at or over $1M.
Grand Traverse Luxury Market, 2022:

Luxury sales accounted for 5% of total market share in Grand Traverse in 2022, up from 4.4% in 2021. A majority of luxury sales were waterfront properties (70%) and the average days-on-market for luxury properties was just 59 days.
In 2021, there were 7 sales over $2M. In 2022, that number doubled. There were 14 sales over $2M in Grand Traverse in 2022.
Leelanau County Luxury Market, 2022: